Join us this spring in beautiful downtown Dubuque for the 40th annual DubuqueFest Fine Arts Festival!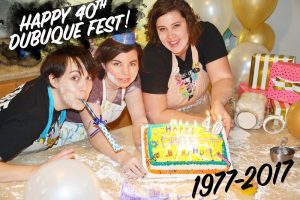 You asked, we listened!  DubuqueFest applications will now be accepted through Zapp!

We know many of you already have Zapp accounts for other shows, but do not worry if you don't.  The sign-up process for artists is easy, quick, and always free to create your account.

Set below Dubuque's picturesque bluff is historic Washington Park, home to the DubuqueFest Fine Arts Festival. Join the eclectic mix of artists who gather each May to exhibit and sell their work.  As Dubuque's reputation grows as a tourist destination for art and culture, the popularity of the DubuqueFest Fine Arts Festival grows with it, drawing lovers of art and history to the oldest festival in Iowa's first city.

Artist Amenities:
Spacious 12 x 12 booths
Curbside loading and unloading
Free Parking (including overnight RV)
Complimentary Breakfast
Artists' reception at Dubuque Museum of Art
Helpful On-site Art Fair committee members
2 Emerging Artist Scholarships
Overnight security
Boothsitters
$1,000 in cash awards

Get more festival information at www.dubuquefest.org.